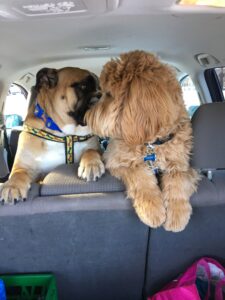 Go for a walk, go to the park, play with a friend and nap in your own home.

Regularly scheduled outings keep your dog happy, healthy and confident.
Basic Services
Private walks, paired with a buddy, or supervised play time ($29).
Occasional Support: private walks ($35)
Puppy visits:  "pee" break, lunch and a walk/playtime for pups 2-4 months  ($26)
---
Specialty Add-On Services & Policies
Multiple dogs
Yours, or a visiting friend, simply add $15 per dog per walk. If you are fostering, please let us know if we can help.
Training Time
Let Carol reinforce your training plan. Extra $65 per 30 minute session.. Private training and group classes are available with Carol the Dog Trainer.
After-hours walking
Before 9 am and after 5 pm on weekdays, provincial & statutory holidays and all weekend long: $15 extra per walk.
Schedule changes and additional last minute walks
Additional walk requests (or change of day for an already scheduled walk) that are received with 48 hour notice will be accommodated in our weekly schedule at no charge. Requests received less than 48 hours in advance will be accommodated if possible and may be subjected to an additional fee of $15 per walk.
Last Minute Cancellations
Cancellations received with less than 48 hour notice may be charged at your full regular walk fee.
Suspension of service
To suspend or cancel your regular service for vacation, business travel, school holidays or other reasons, we request a minimum of 2-weeks' notice and a hold-fee of $5 per day will be applied. With less than 2 weeks notice, full regular walk fee will be invoiced for all missed walks.
Billing
Invoicing is done monthly and payments are due upon receipt of your invoice. All invoices will include the applicable HST of 13%.
Insurance
Carol the Dog Walker is fully insured with Profur Specialty Insurance for dog walkers so we are all in good hands.
See you in the park or along the path!