Marianna Vakopoulos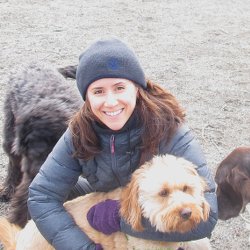 Marianna has been walking dogs with us since 2014. She's not afraid of appearing silly while walking with her dogs. On any given day you will find her talking to them in different voices, singing to them an impromptu song, or giving them lots of hugs. Marianna loves to learn and has an educational background in psychology, education and nutrition. She is a proud fur mama to her rescue dog Crosby. She is trained in First Aid and CPR for dogs.  When she is not walking dogs she can be found pursuing entrepreneurial ventures, dancing and watching educational videos.
Check out her website at www.mariannavakopoulos.com
Sandy Dusseault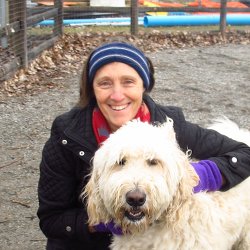 Sandy joined our team during the fall of 2012. Sandy is a long time friend and neighbour and is very active in our community.  We have known each other since our boys were in nursery school (and that is long time ago now!)  Sandy is an active and caring person…a perfect fit for dog walking.  She loves getting outside with the pooches and often brings her own dog Shadow along for some "canine company".
Rolly Dusseault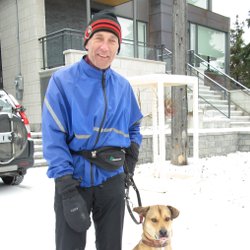 Rolly joined our team during the fall of 2013 upon his retirement and Sandy's urging…a family affair!  Rolly is also an outdoor enthusiast and loves to be active…dogs are his new "2nd career".  He is patient, caring and kind…a winning combination!
Helen Thomas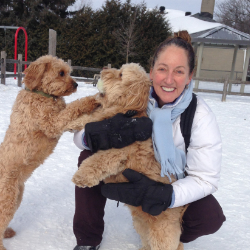 Recently retired, Helen has a love of all animals - she grew up surrounded by cats, dogs, birds, and other small mammals.  She now lives with two cats of her own; Gracie and Coco.  Although her eventual career was in human health care she did begin her working life as an Animal Care Technologist at a variety of local clinics.  Having the cats, along with her new found freedom for extended travel prevents Helen from having a dog of her own.  Dog walking provides the opportunity to spend time with her canine friends and to be outdoors - a match made in heaven.
Melanie Younger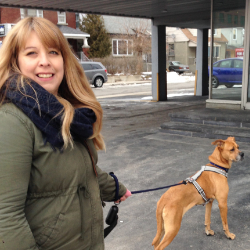 As a long-time friend to animals, nature lover, pet companion, vegetarian and yoga professional, Melanie holds a vision of animal care that is compassion-based and puts your pet's needs first. When she's not out having adventures with amazing dogs like yours, Melanie is pursuing pursuing her law degree with a focus on environment, conflict resolution and animal rights. Her life's work is to create a world that is safer for animals, plants, trees, oceans and rivers and to find sustainable ways for us to interrelate. In addition to her legal pursuits, Melanie's long-term goal is to establish an animal sanctuary. She sincerely looks forward to spending time with your special dog-friend!
Aaron Thornell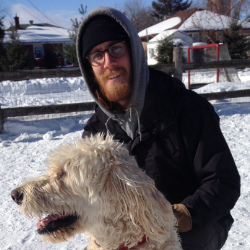 Aaron is a recent addition to the team, returning to Ottawa after a season of fruit picking in British Columbia. Aaron is always on the lookout for ways to get involved in community endeavours, and seeks out volunteer opportunities to pair with his dog-walking commitments. He puts a great deal of effort into learning and attempting to mitigate climate change, where he puts his degree in community development to use. He's also an avid sports fan, and is always keen to chat about the most recent Sens game.
Duncan Rowat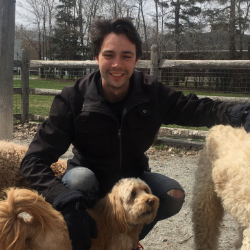 After finishing his schooling at St F X, Duncan has now rejoined our team.  We are glad to have him back until his next year of studying continues this September. As he plans to become a physiotherapist, I expect some day he will return to help us our with our canine companions ...physio is not just for humans anymore! Welcome back Duncan.
Chris Halliday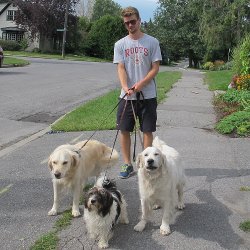 Chris is our newest summer student and is helping out part-time until the end of the school term and his graduation. Congrats Chris! Chris is finalizing his International Business degree at Carleton University and has a passion for South America where he plans on travelling and working in the fall.  He is a hardworking team player and loves to be around dogs. He has helped take care of his family's golden retriever for the past 13 years. Chris is good friends with fellow dog walkers Sandra and Duncan. Welcome Chris and remember, if the world of high finance doesn't work out you may find running your own dog walking business is the way to go!
Max Upton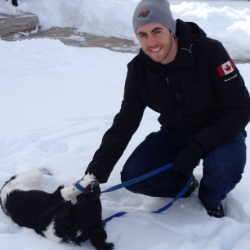 Max is the newest addition to the team. Max has recently moved back to Ottawa after four years of working in Calgary in the high tech and business sectors. Most recently, he has studied to become a firefighter. Since he obviously enjoys physical work and being outdoors, dog walking is a natural fit. Being related to Carol has given him lots of experience with dogs over the years, naturally!