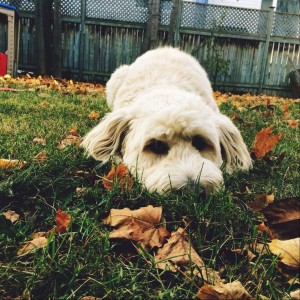 Go for a walk, go to the park, play with a friend and nap in your own home. What could be better?
Regularly scheduled walks  keep your dog happy, healthy and confident.
Basic Services
Private walks, or paired with a buddy, for 30 or 40 minutes ($20 and $24).
Combo Package: Structured Play time and a walk too ($27)
Puppy visit:  "pee" break, lunch and a walk or playtime  ($24)
---
Specialty Add-On Services & Policies
Multiple dogs
Yours, or a visiting friend, simply add $10 per dog per walk. (Fostering? No charge for 1 or 2 additional dogs!)
Training Time
Let Carol reinforce your training plan. Extra $20 per 30 minute session. Group classes also available with Carol the Dog Trainer.
After-hours walking
After 5 pm on weekdays, provincial & statutory holidays and all weekend long: $10 extra per walk. 
Schedule changes and additional last minute walks
Additional walk requests (or change of day for an already scheduled walk) that are received 4 or more days in advance will be accommodated in our weekly schedule at no charge. Requests received less than 4-days in advance will be accommodated if possible and are subject to an additional fee of $10 extra per walk. 
Last Minute Cancellations*
Cancellations received with 24 hr notice will incur no charge.
Walks cancelled on the day of a scheduled walk before 7:30 am will be subject to a 50% of regular walk fee
and walks cancelled after 7:30 am on the day of a scheduled walk will be charged at your full regular walk fee.
*can only be used to cancel 1 walk; to cancel consecutive walks, please see "Suspension of Service" below.
Suspension of service
To suspend or cancel your regular service for vacation, business travel, school holidays or other reasons, we request a minimum of 2-weeks' notice and we will "hold your spot" for you for $10.00 per day for all regularly scheduled walks (up to a maximum of 20 walks). With less than 2-weeks notice, full regular walk fee is charged for all cancelled walks.
Pay-for-what-you-use
No monthly commitment or contract, pay only for the walks you book while respecting our cancellation and "suspension of service" policies.
Billing
At the end of each month, you will receive a PDF invoice which can be paid by cheque or by using interac email transfer. All invoices will include the applicable HST of 13%.
Insurance
Carol the Dog Walker is fully insured with Profur Specialty Insurance for dog walkers so we are all in good hands.
See you in the park or along the path!